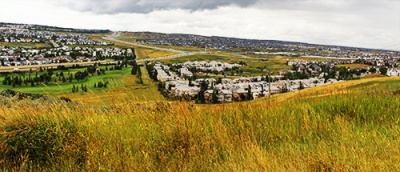 Panorama Hills, in Calgary, is a suburban residential community with a population of 25, 130 (According to the 2014 Calgary Civic Census). The community boasts a private 6-acre park for resident use. Amenities include a spray park, basketball courts, beach volleyball courts, a playground, picnic space and a beautiful pond (perfect for skating on during the winter months). An abundance of walking trails and green space coupled with beautifully constructed homes and rolling hills makes Panorama Hills one of north Calgary's most desirable communities.
Both Panorama Hills and Panorama Hills Estates are comprised of about 68% single-family residential homes with the remaining 32% being represented by Duplexes, Townhomes, and Apartments. Interestingly enough, Calgary Civic Census (2014) also reported that homes in Panorama Hills are 84% owner occupied. The average age of homeowners in Panorama Hills is 32, making it a great community for a growing family or young professionals.
One of Calgary's largest residential community, you're sure to find that everything you need is within arms reach. Easy access to arterial roads make getting in and out of Panorama Hills a breeze! 20 minutes in the car can take you to the Calgary Zoo, Telus Spark, or the cities stunning downtown. Spend your time entertaining friends and family in the comfort of your tranquil backyard, or head out for a night on the town. With Panorama Hills the choice is yours!
Starting to feel at home yet? Looking for more information on Panorama Hills real estate? We've got you covered! Check out one of the  independently owned and operated MaxWell Brokerages proudly serving Calgary and surrounding area.
Leave a Comment